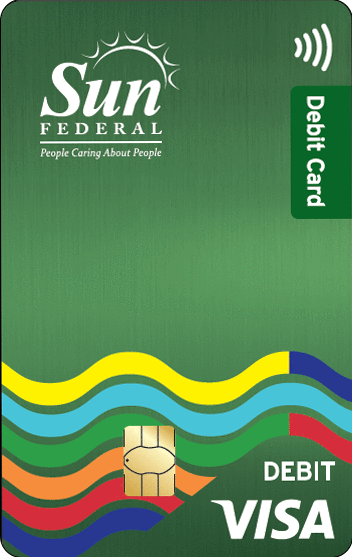 Using a contactless debit card instead of cash has countless benefits:
Safe & touch-free way to pay
Faster transactions
More space in your wallet
Funds automatically withdrawn from your checking account
Card contains an EMV Chip & magnetic strip so you can still insert or swipe at retailers who may not accept contactless cards yet
Use your contactless card at ATMs (Alliance One, CU$, Accel and Cirrus networks) and make purchases anywhere that Visa is accepted.
Day-to-Day Convenience:
FREE Bill Pay
Deposits & withdrawals
Easy balance check & fund transfer
24-hour account access
Here's a Little Tip:
Your debit card isn't a credit card, but we recommend choosing "CREDIT" at the checkout anyway. The transaction is the same, but you'll avoid using one of your eight free monthly debit transactions that way*. Plus, by choosing "CREDIT", you're protected by Visa's "Zero Liability Policy."
*No fee & no debit transaction limit if you have Kasasa Checking
Ready to get started with a debit card? Take the next steps!
Read More About Our Debit Card
Read Our ATM & Visa Debit Agreement