Help Me
Security Tips
Browser Information
Sun Federal Credit Union Website Requirements
For optimal performance of our website, we recommend the following:
For NT, 2000, ME, XP, Vista, Win 7 or Win 8
Firefox 3 and higher
Chrome 3.0 and higher
For Macintosh using OS 10.x
Safari 3.0 and higher
Firefox 3 and higher
Chrome 4.0 and higher
Note: if you wish to log into online banking your browser's zoom setting must be at 100%.
Online Banking and Mobile OS Requirements
Sun Federal CU is committed to providing you with the highest level of security to ensure that your information is protected. Therefore, in order to enroll in online banking, members must:
register using a desktop computer, laptop, smartphone app or tablet app that has a most recent browser and/or mobile device operating system (listed below)
have a valid email address with the credit union
be able to open an Adobe PDF document*
Also, for the best online and mobile banking experience, use the most recent version of the following supported browsers and mobile devices:
| | | | | |
| --- | --- | --- | --- | --- |
| | Chrome | | | IOS |
| | Firefox | | | Android |
| | Safari | | | |
| | Microsoft Edge | | | |
Use Sun Federal CU's Browser Checker
Download our Mobile Banking App from the Apple App Store or Google Play:
iPhone App
Android Phone App
Unsure what browser you're using? Visit whatbrowser.org to find out! This will tell you what browser your using and the option to update it if needed.
Unsupported Browsers
If you do not have a supported browser, you'll see a similar message pop up. For your security, it's important to take action and update your browser.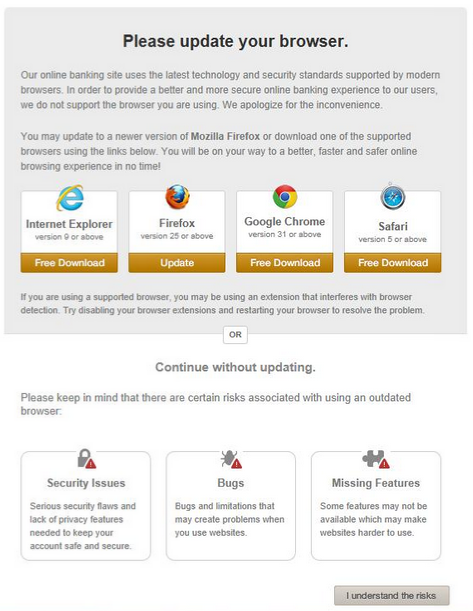 *Viewing Adobe® Portable Document Format (PDF) Files

If you wish to view PDF files, we recommend the use of Adobe Acrobat® Reader® v. 6.0 or higher. To download a free copy of Adobe Acrobat Reader (v. 8.0), click here.
Bill Pay Requirements
To ensure access to Bill Pay, be sure you use the most recent version of the following Operating Systems and Browsers:
| | | | | | |
| --- | --- | --- | --- | --- | --- |
| Operating System | Microsoft Internet Explorer | Microsoft Edge | Apple Inc. Safari | Mozilla Firefox | Google Chrome |
| Windows 7 SP1 | 11 | | N/A | Latest Two Versions | Latest Two Versions |
| Windows 8.1 | 11 | | N/A | Latest Two Versions | Latest Two Versions |
| Windows 10 | 11 | Latest Two Versions | N/A | Latest Two Versions | Latest Two Versions |
| macOS 10.12 (Sierra) | N/A | | 11.0 | Latest Two Versions | Latest Two Versions |
| maxOS 10.13 (High Sierra) | N/A | | 11.0 | Latest Two Versions | Latest Two Versions |
| iOS 11 | N/A | | Mobile Safari | Latest Two Versions | Latest Two Versions |