Season of Giving
Members Helping Members
We are so grateful to be a part of our wonderful community.
The holidays are a perfect time of year to acknowledge just how lucky we are by sharing what we have with members who need a little extra help. Each year at this time, Sun Federal invites our members to nominate fellow members who could use a little extra holiday cheer.
Since we started the Sun Federal Season of Giving program in 2008, and together with the love, caring and support of our members, we have brightened the holidays and delivered some extra special gifts to more than 345 families in need.
---
Angel Tree
As part of our mission – People Caring About People – Sun Federal has adopted families in need and provided them with monetary and material support. Each year around the holidays we invite our generous and loving employees to participate in our annual Angel Tree, a giving program designed to help our adopted families.
Since the holiday Sun Federal Angel Tree program began in 2006 we have provided 27 families and three organizations with special holiday giving!
Teacher of the Year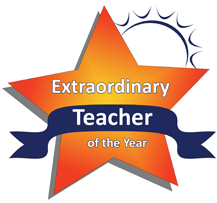 Our annual Extraordinary Teacher of the Year Award! This includes classroom teachers, subject teachers and certified teaching professionals who provide direct instruction to students, K through 12, in a classroom setting, such as a reading specialist, speech therapist, learning support teacher, librarian, etc.
Do you know an extraordinary teacher?
Select one of the online forms below to submit a nomination narrative telling us why you're nominating this educator for the Extraordinary Teacher of the Year Award. The narrative should include examples and supporting information about how the nominee shows a superior commitment to ensuring top-level education for their students.
---
2023 Ohio Award Winners
Eligible for educators in our Community Area (Lucas & Wood Counties).

$2,500 in Awards
$500 Award Winners
1. Dorian Boggs - Lake Local Schools
2. Grainne Kulka - Ottawa Hills Schools
3. Heather Rotunno - Washington Local Schools

$1,000 High School Senior Scholarship Winner
Bryan Zheng - Lake Local Schools
---
Pennsylvania Awards
Eligible School District: Wilson Schools
$1,000 to a K-5 teacher*
$1,000 to a 6-12 teacher*
$1,000 to one high school senior selected by the District
* includes $500 match from the Wilson Education Foundation
Nomination Deadline: April 28, 2023
How will nominations be reviewed?
A committee from Sun Federal will judge the nominations and select one teacher/educator from each district.
Value Proposition
Here's what our members gained in 2021 in addition to great rates, products and trusting relationships...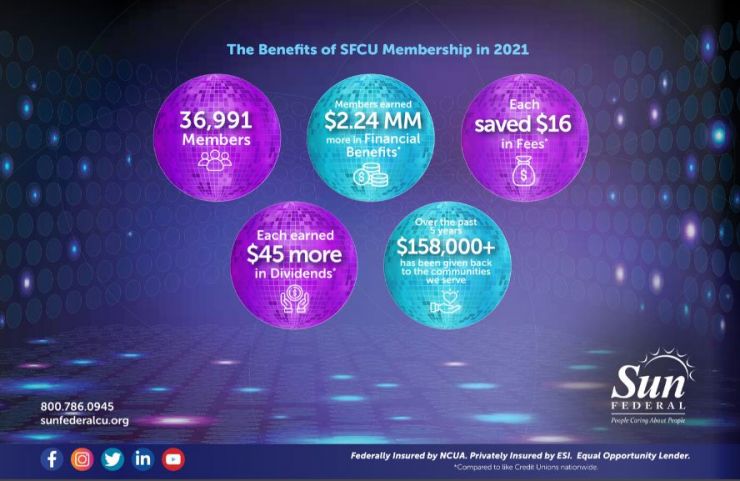 Saving Giving Challenge Donation
Saving Giving Challenge Charitable Donation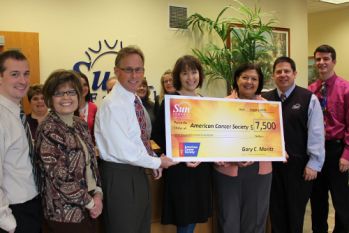 In 2014, members of Sun Federal CU were invited to "Take the Saving Giving Challenge." By refinancing their high rate loans from elsewhere, members saved over $1.84 million in interest and consolidated more than 650 debts through the Saving Giving Challenge! Since we reached our goal, we donated $7,500 to the American Cancer Society Northwest Regional Office.
The Saving Giving Challenge continued in 2015 with a new goal and a new way to give back... to members!