Merchant Services
Does your business deal with high volumes of credit and debit card processing?
Merchant services is the handling of electronic payments that your customers make, including the receiving of sales information from the merchant, receiving authorization, collecting funds and sending you payment.
With merchant services from Sun Federal Credit Union, you can make your customer's payment experiences easy and convenient without the cost of high transaction fees and paperwork headaches.
We've partnered with Newtek to offer you and your customers the payment solutions that work for you.
Merchant Services Made Easy:
Guaranteed cost reduction
Credit & debit card acceptance
Secure, electronic check services
Direct deposit & payroll
Vendor payments
Batch credit & debit transaction processing
Secure, easy e-commerce services
Gift and loyalty card programs
Email Business Services
Health Savings Account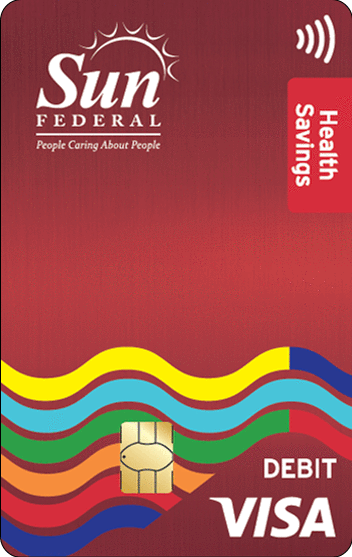 Alongside a high-deductible health insurance plan (HDHP), or health insurance with a minimum annual deductible and a maximum out-of-pocket limit, an HSA gives you some flexibility on how you'd like to spend your health dollars.
HSAs give you great tax benefits, too, like tax-free deposits into your HSA. Just like a regular savings account, money you deposit earns interest. Unlike a regular savings account, you won't be taxed on the interest you earn from HSA contributions. And when you pay for things, like visits to the eye doctor, with your HSA, you won't be taxed on those payments.
Finally, while you can only use the money in your HSA for qualified health expenses now, when you turn 65 you'll be able to use it for whatever you want.
Healthy Savings Option:
Non-taxable interest earnings
Tax deductible contributions
Tax-free withdrawals to pay for qualified medical expenses
Money dedicated for personal, spouse & dependent medical expenses
To open an HSA, you must be covered by a HDHP.
Are you an employer? Consider offering this great benefit to your employees!
Ready to get started with an HSA? Take the next steps.
View Our Rates
Email a Member Service Representative
Employer Retirement Plans
Sun Lifetime Financial Advisors, located at Sun Federal Credit Union, can provide your business with retirement services that are low-cost and easy to administer.
Our comprehensive retirement services include:
401(k) rollovers
College funding
Life & long-term care insurance
Tax preparation (Pennsylvania only)
Retirement, wealth transfer & investment planning
Learn more about Sun Lifetime Financial Advisors
Not NCUA/NCUSIF/FDIC insured, May Lose Value, No Financial Institution Guarantee. Not a deposit of any financial institution.
*CBSI representatives are not tax planners. For questions regarding you specific tax situation, please consult a tax professional.
FR-1091822.1-0115-0217
---
Advisory services offered through Capital Analysts, Inc. or Lincoln Investment Planning, Inc. Registered Investment Advisors. Securities offered through Lincoln Investment Planning, Inc., Broker/Dealer, Member FINRA/SIPC. www.lincolninvestment.com.
Simone Zajac Wealth Management, Sun Federal Credit Union and the above firms are independent, non-affiliated entities.
Simone Zajac Wealth Management Group, 1735 Market Street, Suite C-16, Philadelphia PA 19103