Suspicious Calls
Tell-Tale Signs
Receiving suspicious calls? Hang up. Every year, thousands of people lose money to telephone scams. Protect yourself and your savings. No matter how friendly or trustworthy the caller seems, if you hear lines that sounds like any of these, say "No, thank you," hang up, and file a complaint with the FTC:
You've been specially selected (for this offer).
You'll get a free bonus if you buy our product.
You've won one of five valuable prizes.
You've won big money in a foreign lottery.
This investment is low risk and provides a higher return than you can get anywhere else.
You have to make up your mind right away.
You trust me, right?
You don't need to check our company with anyone.
We'll just put the shipping and handling charges on your credit card.
What to Do
If a caller has made you feel uncomfortable, asked you for personal information – like your credit card or Social Security Number – or is pressuring you to buy something you hadn't planned to purchase, say "No thanks."
As soon as you do, hang up and report it to the Federal Trade Commission.
Hang Up on Fraudulent Telemarketing
Hang Up on Phone Fraud
File a Consumer Complaint
Suspicious Emails
Trouble In Your Inbox
Unfortunately, people fall victim to Internet fraud – called phishing – every day. Scammers impersonate businesses to trick you into providing personal information. Some obvious signs of phishing include emails, texts and pop-up messages that ask for your personal or financial information. Don't click on links within the emails or reply to the messages. Delete them immediately. Legitimate businesses don't ask you to send sensitive information through unsecure channels.
What to Do
Delete email and text messages that ask you to confirm or provide personal information, including credit card and bank account numbers, Social Security numbers and passwords.
Ignore and delete emails that seem like they're from organizations you do business with and threaten to close accounts or take action if you don't provide personal information. If you ever have any questions, contact the organization from which the email seems to have been sent.
Never reply or click on links, or call phone numbers provided in the message. Many phishing messages direct you to sites that look real but whose purpose is to steal your information.
Do not follow directions in suspicious emails. Some scammers ask you to call a phone number to update your account or access a "refund." A local area code doesn't guarantee the caller is local.
If you're concerned about your account or need to reach an organization you do business with, call the number on your financial statements or on the back of your credit card.
If You've Been Tricked
If you suspect you have been tricked by a phishing email, follow these steps: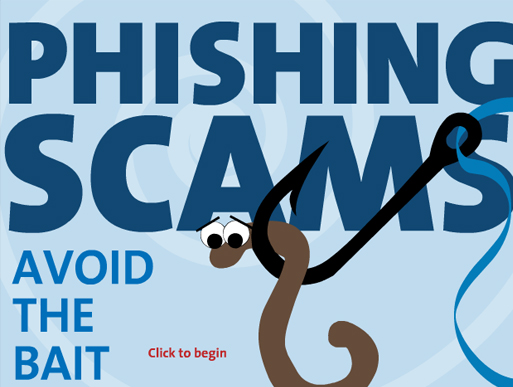 Phishers are looking to lure you with bogus emails and pop-ups that seem safe. Will you take the bait or live to swim another day?
Suspicious Texts
Phony Phone Messages
Text message spam, like email phishing, is sent to retrieve your personal information.
Text spam often promises free gifts or product offers in exchange for personal information, and can lead to unwanted charges on your phone bill or slow your cell phone performance. It's illegal to send unsolicited commercial email messages to wireless devices, unless the sender has your permission.
There are a few exceptions to that law. Transactional messages, or those that come from a company you have a relationship with are legal. Also, non-commercial messages, like political surveys or fundraising requests, are allowed.
What to Do
Delete text messages that ask you to confirm or provide personal information. No legitimate companies will ask for information, like account numbers or passwords, by text.
Don't reply, and don't click on links provided in the message: Links can install malware and take you to spoof sites designed to look real and steal your information.
Never give out personal information in response to a text. Your Social Security, credit card, and account numbers can be used to steal your money or open new accounts in your name.
Place your cell phone number on the National Do Not Call Registry.
Report text message spam. If you are an AT&T, T-Mobile, Verizon, Sprint or Bell subscriber, copy the original message and forward it to the number 7726 (SPAM). It's free.
Review your cell phone bill for unauthorized charges and report them to your carrier.
File a complaint with the Federal Trade Commission (FTC) about unwanted commercial or other text and email messages.
How to Keep Your Personal Information Secure